Today was a good day. Make that a GREAT day.
I got up and did my C25K program, had a green monster shake and then went off on my first ever trip to Whole Foods. OMG! I'm in love! I wish it was closer. Its about an hour away, but I think I may make it a once a month destination. Great atmosphere, it appears to be decent pricing, lots of organics, and everything a healthy girl could want! :D
I was so excited to make a couple of new recipes that I got from
Oh She Glows
. If you haven't been to her site, click the link ASAP! First I got distracted by making my own almond butter. I was able to grind my own at Whole Foods, so then I decided to come home and make more. After making some cocao almond butter I set off to make
Vegan Mac & Cheese
. I modified the recipe based on what I had on hand. First, it calls for cashews and I only had almonds. I forgot to pick them up at Whole Foods. *doh* They worked great but I highly recommend having a full size food processor. My tiny one made for a lot of extra work and I don't think the almonds were as smooth as they could have been. I used
Turtle Mountain SoDelicious UNsweetened coconut milk
instead of almond milk and I believe that worked just perfectly. Thick and creamy yet not sweet or coconut-y. I also used 1/2 cup of Nutritional Yeast because I really wanted a "cheesier" flavor and bright color. I'd maybe back down to 1/3 cup but overall I am SOO very pleased with how it turned out. I can't wait to try it again with the original ingredients.
Angela's Picture: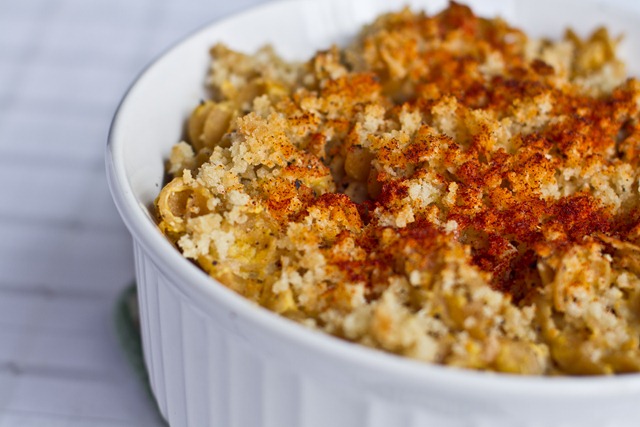 My less professional looking one:
This was my first attempt at baking anything specifically Vegan. I'm SO happy with how it turned out. I am looking forward to trying more recipes soon. Next up is
Protein Power Goddess Bowl
. Looks YUMMO!

Can't wait to get my workout on tomorrow and then make a Power Smoothie with another new discovery.... Chia Seeds!